Our forever muses, free-spirited lovers and friends of the brand Zippy and Terence took our Spring 19 collection 'Scintilla' on a journey to the hidden Greek island of Kea.
Mesmerised by this dreamy escape, the two shutterbugs captured their intimate moments on film, specially for Tigerlily.
Lusting for a European adventure, we interviewed the creative duo about their long love affair with Greece.
Where in the world are you now?
T: We're on the train going through the French countryside to Paris. Having just left Greece and got the scans back from the lab.
What made you choose Kea to shoot?
T: One of the main things that intrigued us about Kea was the lack of articles written about the island. We've both been so many times to Greece we quickly learnt you cannot go wrong, every island is magical and unique. We fell in love as soon as we stepped off the boat. As the island is not on the main tourist map it is quiet and traditional without a tourist trap in sight. I loved how in the little main town on the port just had local restaurants, a bakery, pharmacy and a hardware store. Without the souvenir store we've gotten so used to seeing.
Any hidden gems that you can share with us?
Z: Tavernas we loved on the Island: Otzias Taverna Otzia Beach, Magazes in Korissia and Aristos at Vourkari. All looking out over the water with amazing Greek food! There was an outdoor cinema close to the harbor in the summer months where they play cool old European movies, we loved walking to the ancient ruin of the lion. Not as famous as the Acropolis but to us just as awesome. In the end the best for us was mostly just swimming in the clear warm Aegean Sea.There is no way to choose a favorite destination. Everywhere for us has its unique culture and way of life. One thing we know is we couldn't survive long in a land locked place.
Zippy, how does your style change when you're on the road?
Z: Mostly I'm in a Bikini finding accessories in markets when traveling wearing summery dresses that don't take up much room, when I get to city I'll just change my shoes or wear a shirt or blazer over the same dress I've been island hopping in. The goal really is to have as little as possible but be prepared for anything.
What song/artist gets you inspired to experience and explore?
Z + T : "One girl, one dream" by Laura Decker, the youngest person to circumnavigate the world. "Barbarian Days" by William Finnegan, we read while driving a van surfing in New Zealand. We love reverberation radio for music when adventure planning.
Do you have any tips on how to live sustainably whilst travelling?
Z: When we count the amount of plane trips we do, so we feel anything but sustainable however, when we can we prefer train or boat over any mode of transportation or by foot in cities. Going to the local markets if we need to buy a plastic bottle (We're no saints!). We just keep refilling it as long as possible..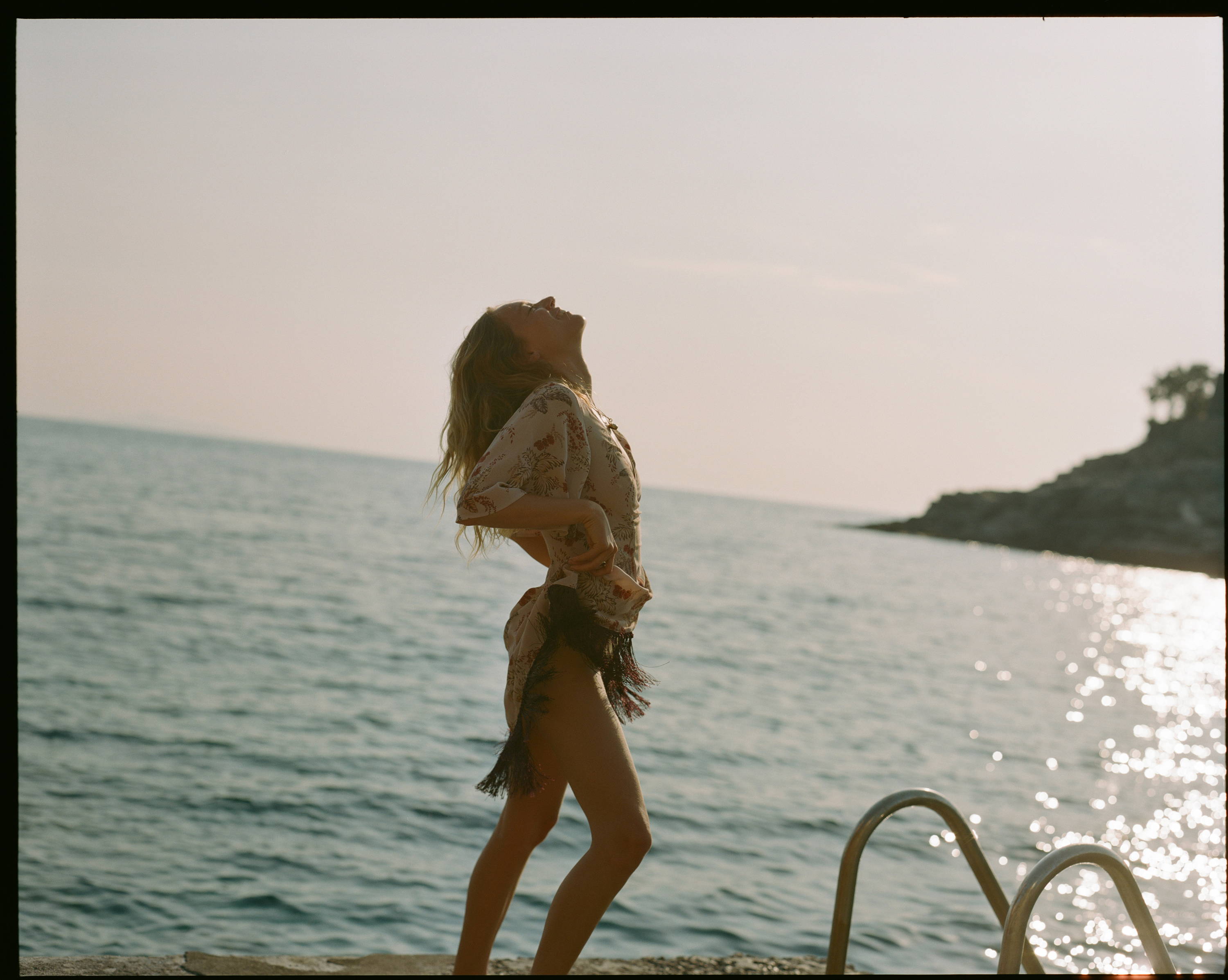 3 things you cannot travel without?
Z: Iphone, bikini and a toothbrush...
Where are you going now?
Z: Well we're getting off this train in Paris, Terence has a job in NY in two days and then we plan to make our way back to Southern Europe again
What are you words to live by?
Take risks and take lots of photos...